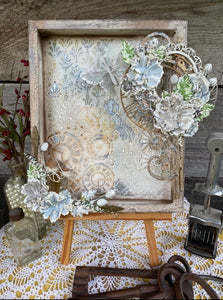 This project was part of a Facebook live workshop.  
Once you sign up I will add you to a private Facebook Group where all of the details, info and class videos are posted. Create along with me while watching the video where you can pause when needed. The group will continue to stay active so you can go back and re-watch any of the videos at a later date. 
We're going to create this gorgeous Altered Wooden Panel. We will be playing with several different mediums to distress the board, leaves, flowers and chipboard! Come prepared to get a little dirty!

Here is the tool list:
(if you would like to order anything please let me know ASAP so I can order it in for you)
-Scissors
-Craft mat
-Walnut or Gathered Twig distress ink or spray
-Weathered wood distress ink or spray
-Hickory Smoke distress ink or spray
-Paint brushes 1/2" to 1"
-White Gesso
-White crackle paste
-Any white texture paste
-Waxes - I've used Bronze Age, Graphite and Aged Brass
-Palette knife. I also like using an old library card or Prima Silicone brush
-Paper Piercer
-Embossing gun
-Strong adhesive - Heavy Body Gel is my favorite
-Paper towel
-Baby wipes
-You're favourite stencils (I've used several)
-Water spray bottle
-Water jar
-Apron if you're worried about your clothes!
The following are product I've used but not essential:

-TH Clear Crackle Paint
-Prima Rustic Brown Metallique paint (or any gold paint or you could just use brown ink)
-Prima Old Silver Icing
-Prima Unicorn Paste
Cost $45